We're snobby, really, really snobby about our donuts and what goes into the making of them.
Our gourmet donuts are handcrafted from only the best ingredients; including natural citrus zest, fresh berries, pure Madagascar Bourbon vanilla, bittersweet Belgian chocolate and freshly squeezed fruit juice.
Donut Snob's donuts are a deliciously sophisticated update on a humble classic.
Go ahead… It's ok to be snobby about your donuts. We won't judge you.
— Donut Snob Team
Fresh Fruit Flavors
Regulars $3.50 | Mini Snobs $1.75
Classic raised donut with a cinnamon glaze and a mixed berry coulis center, all topped with fresh berries (raspberries, blueberries and blackberries)
Raised donut with a fresh lemon glaze, raspberry coulis center and finished with fresh raspberries
Pure blueberry juice perfectly compliments an Earl Grey tea glaze, finished with an Earl Grey infused drizzle and fresh blueberries
Standard Flavors
Regulars $3.00 | MINI SNOBS $1.75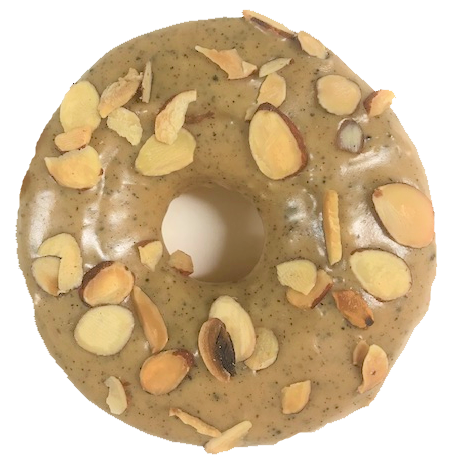 REG $3.50 | MINI $1.75
Spiced chai glaze made with our custom
house chai blend and sprinkled
with toasted almonds
REG $3.50 | MINI $1.75
Fall spiced glaze made with real pumpkin and topped with house-made maple candied pecans
REG $3.50 | MINI $1.75
Sweet potato pie glaze made with roasted sweet potatoes and warm autumnal spices, with graham cracker and toasted pecan crust topped with edible autumn leaves
At this time, Donut Snob does not offer either gluten-free or vegan donuts. All of our donuts contain gluten and some dairy products.
Donut Snob donuts are NOT made in a nut free facility. Additionally, many of our donuts have nuts in the glaze or topping. Donut Snob donuts may also contain soy, dairy, and other allergens. If you have any severe allergies not here listed, please contact us via e-mail at orders@donutsnob.com before consuming any Donut Snob products.